As the season approaches, we could think of no one better to coach us through some holiday cooking tips than Chef Peter from Carolina Gourmet, our trusted advisor here at StayLakeNorman for all things food and celebrations. As a seasoned veteran in cooking for a crowd, we asked him to share his wisdom in hosting Thanksgiving dinner and helping it go more smoothly for the typical home chef. Here is what he told us:
1. Choose Quality Ingredients
Chef Peter's first piece of advice was that ingredients matter. They are the stars of the dishes you are making, and choosing fresh and natural ingredients will elevate whatever you are serving. He said that buying top-quality ingredients makes the biggest difference in the presentation of the meal and will prepare you to cook like a chef.
2. Prep in Advance
In thinking about cooking for Thanksgiving in particular, typically with many more components involved than the average dinner, Chef Peter advised that anything that is served cold can be washed, sliced, or chopped ahead of time. Dessert can also be made in advance so that you don't have to worry about it on the day of the event.
3. Prepare a Checklist
Another important reminder from Chef Peter is to make sure that you are NOT going to the grocery store on the day of your event. "I think it's very important to have a shopping list and everything bought a couple of days before you actually start cooking," he said. (And don't forget staples like your salt, pepper and olive oil!) "Sometimes we forget about all the little things we need in order to make a meal really good. But it's the little things at the end of the day that make a great difference. This is why I always use a checklist for everything."
4. Make a Timeline, and Get Creative!
When it comes to timing, Chef Peter advises that, along with your checklist, you prepare a timetable for when things need to be in the oven or on the stove, and for how long. It's important not to overbook your space! The next tip he gave was really valuable: "It's also helpful to think about what are the other things that you have around the house that you can use to make a meal as well," he said. "What can I cook on my grill, for example, that takes away from the kitchen space? If you turn your grill on really low, you can take your roast or turkey and you can put it on the grill to free up the oven space for other things. Just keep it really low and use it more as a holding cabinet. The turkey will stay nice and warm rather than actually cooking." He also encourages being creative with other kitchen appliances, like a slow cooker, deep fryer, or toaster oven.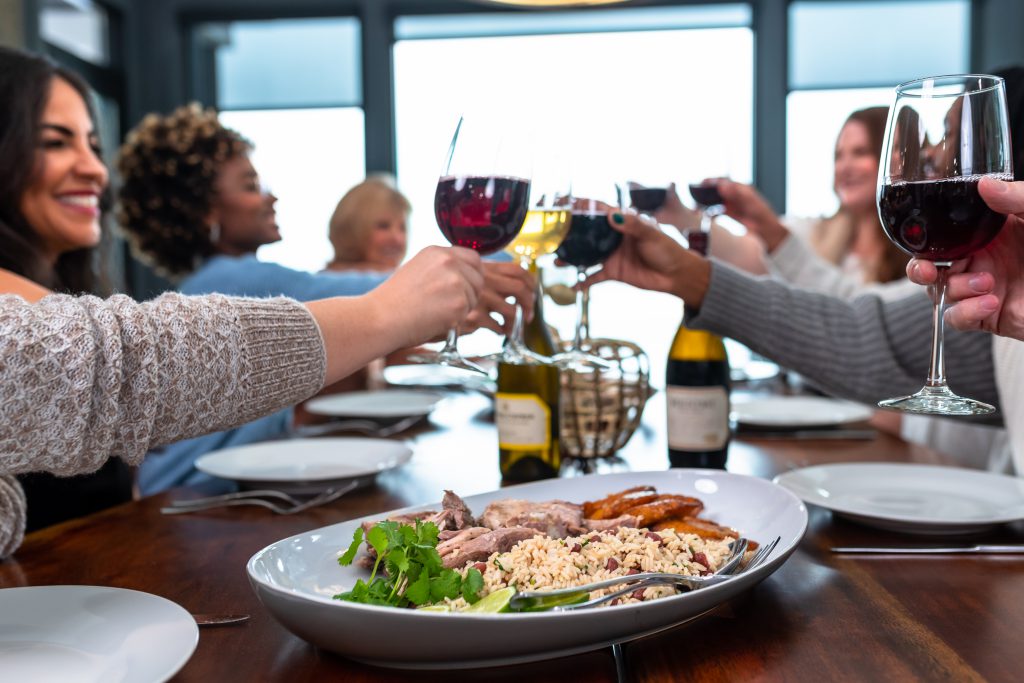 5. Enlist Helpers
Lastly, keep in mind when you are preparing to host Thanksgiving, Christmas, Hanukkah or another holiday, that no one can do it by themselves, not even professionals. While you may be able to handle the cooking on your own, there are so many other details to attend to when you are hosting a group. It's ideal to be able to designate someone else to do the additional tasks like setting the table, serving drinks, and entertaining guests.
Chef Peter sums it up like this: "Cooking for a crowd is a big task, and that's why it's so important to have the checklist, create a timetable, and give it a walk through. Just like if you're planning a wedding, you're not going to leave it to chance. You get involved with your caterer, you get involved with the seating arrangements, you get involved with who is going to do what and so forth."
Take it from the pro: preparation is the key to a successful and enjoyable (and maybe even stress-free?) holiday meal.